The Office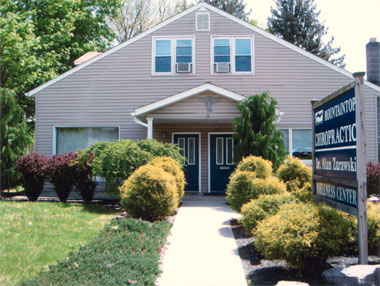 When we converted this pleasant older home into an office, we wanted visitors to feel "at home." Our chiropractic center was designed so both patients and staff can enjoy a comfortable, relaxed atmosphere.
The office is handicap accessible and offers handicapped parking.


STAFF
Our office staff will help you to get comfortable with the chiropractic approach to health and explain the office procedures. They will try to answer any questions you may have
Eileen is the office manager. She has a great deal of knowledge about chiropractic care and any insurance matter you may have.
Joanne Tami and Sue our chiropractic assistants have a great deal of experience with insurance. You may often see them at the front desk answering the phones and helping patients schedule.
INITIAL VISIT
Your initial visit will begin with filling out a health questionnaire to get a clear picture of your injury or condition. The office staff will also ask for information about prior x-rays, tests, etc. relating to this condition. If you have had testing done, it is important you bring that information with you to the appointment. They will also obtain your insurance information if applicable. You will then fill out the health questionnaire if you have not done so prior to the appointment. The doctor will review the history form with you and ask relevant questions, then perform an examination to help determine the cause of your problem, if x-rays or other testing is necessary, and if chiropractic care can help you.
FOLLOW UP VISIT
After all the information is reviewed and you are accepted as a patient, the doctor will design a treatment plan specifically to address your problem and your needs. At this time, if you had x-rays taken they will be shown and explained to you. If you decide the problem you are experiencing would be better off gone and you agree with the treatment plan the doctor had discussed with you, then this is when you will begin your treatment.
Chiropractic Treatment

After the spinal analysis and associated testing has determined what is causing your spinal nerve stress, the doctor will determine which type of treatment and adjustment "techniques" are best in your case. Techniques are methods to restore alignment and proper joint function. Patients may be given a choice of techniques that would be appropriate for their condition. Techniques such as Activator uses a tiny instrument to impulse the vertebrae. Some techniques such as Cox spinal distraction and others require a special chiropractic adjusting table. Many techniques simply use the hands of the chiropractor to gently impulse the subluxated vertebrae. Along with the spinal adjustments, therapies such as heat, ice, ultrasound, muscle stimulation and others may be used to reduce pain, inflammation and reduce healing time.
INSURANCE COVERAGE / PAYMENTS
Many insurance's cover chiropractic but the amounts they cover and limitations vary greatly. It is best to call your insurance company prior to your first visit to find out what restrictions apply. Payments are due at the time of the visit. With most insurance companies a co-payment is due at the time of your visit.
Office Hours
| | |
| --- | --- |
| Monday | 9 am - 12:30 pm, 2:30 pm - 6:30 pm |
| Tuesday | 9 am - 12:30 pm, 2:30 pm - 6:30 pm |
| Wednesday | 9 am - 12:30 pm, 2:30 pm - 6:30 pm |
| Thursday | 9 am - 12:30 pm, 2:30 pm - 6:30 pm |
| Friday | 9 am - 12:30 pm, 2:30 pm - 6:00 pm |
| Saturday | Closed |